Basic Info
.
Name: James Montecello
Age: 15
Gender:
Nationality: Kumogakure
Personality: Works pretty well in groups, Is laid back, and outbursts a lot.
Physical Stature:
Height: 5'9
Weight: 130
Eye Color: Dark Brown
Hair Color: Black
Hair Style: Looks like pic at bottom
Skin Colour: Looks like Pic at bottom
Accessories:
Clothing: What gogeta wears but black and orange
Appearance: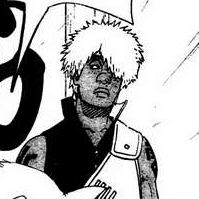 Ninja Skills
Class: Raikage (Nasin is also the raikage)
Weapons: 1 red bladed katana's with a black hilt. Called The Hell Blade
Skills: Is the 8 tails host. Excells at Ninjutu, okay at Taijutsu and really doesn't really use it, Not good at Genjutsu, But can negate genjutsu because of the 8 tails chakara. Also one of the last users of the Karin Zanjutsu
Small weaknesses: Small Weakness is taijutsu . Big Weakness is Ramen.
Background story: Coming soon